Flash Burnout
Fifteen-year-old Blake has a girlfriend and a friend who's a girl. One of them loves him, the other one needs him.
When he snapped a picture of a street person for his photography homework, Blake never dreamed that the woman in the photo was his friend Marissa's long-lost meth addicted mom. Blake's participation in the ensuing drama opens up a world of trouble, both for him and for Marissa. He spends the next few months trying to reconcile the conflicting roles of Boyfriend and Friend. His experiences range from the comic (surviving his dad's birth control talk) to the tragic (a harrowing after-hours visit to the morgue).
In a tangle of life and death, love and loyalty, Blake will emerge with a more sharply defined snapshot of himself.
Click here to read reviews and interviews
about Flash Burnout.
Click here to read deleted scenes from Flash Burnout.
From School Library Journal - *Starred Review*
"All … aspects of the story are tied together by appropriate but sensitive dialogue; beautifully developed, diverse characters; an unblinking pace; and intelligent humor. An exceptional novel, Flash Burnout is thought-provoking on many levels. "
From Booklist - *Starred Review*
"… this rich romance explores the complexities of friendship and love, and the all-too-human limitations of both. It's a sobering, compelling, and satisfying read for teens and a promising debut for a new young-adult author."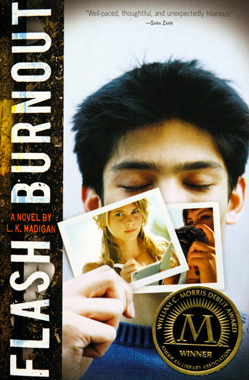 Available here as an audiobook.
Also available on iTunes as an audiobook
Winner of the 2010 William C. Morris YA Debut Award, which honors a debut book published by a first-time author writing for teens and celebrating impressive new voices in young adult literature.
An American Library Association Best Book for Young Adults
A Top Ten Book for Fall 2009, by the New England Children's Booksellers Advisory Council
Nominated for the 2011 Rhode Island Teen Book Awards in the "Recommended for High School Students"category
# 4 on the IndieBound Top Ten List for Teen Readers (Winter 2009 Kids' List).